I spent some money on framing....Hey, I had over $150.00 in gift cards to Michaels...I'm going to use it. I have 3 finishes to show off and 2 WIPs

First, We have Erin from Fanta Cat Designs. I didn't realize that I hadn't initialed and dated it until after I had it stretched on the acid free foam core...I wasn't going to undo it, so. Oh Well! The dragon was done on the chart in green, but I decided to change it to purple...I think it came out wonderful. I stitched this while I was pregnant with the girls.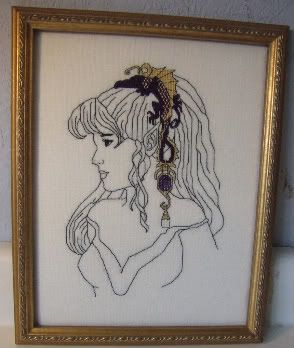 Next is Neva's Hardanger doily. It was a beginner project for those who wanted to learn Hardanger embroidery. And for once I used all the recommended materials. I stitched this one up while pregnant with Ike and it won Second Place in the 2003 (2004?) County Fair. I just finally got around to framing it.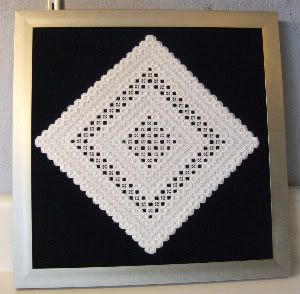 Last for the Finishes is San Man's Designs "Snowbabies". I saw the chart after I had Ike, and finished stitching while pregnant with the girls. I made a single change on this chart. The chart originally had a bunch of random X's to look like snow falling. I substituted small, clear, sparkly beads. They were a bitch to put on...but totally worth it.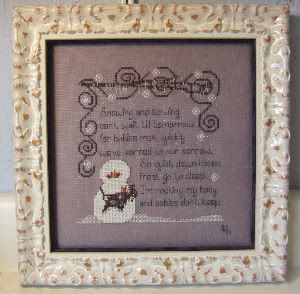 I also just realized I have another finish...I just forgot to take a picture of the finished Primitive Hearts...maybe when I get it done in its final state. I already have a backing for it!

Now for the WIPS

First is Swirley Sampler...I've gotten a lot further on it lately. I'm a little worried that I'll run out of the blue...so I'm starting to conserve it a bit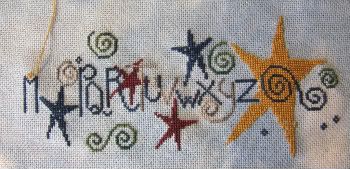 Next and Last is Fleur des Anges. It doesn't look like much was done since the last time, but I've added more border and finished up a couple of undone motifs. I'm hoping to finish this thing this month.